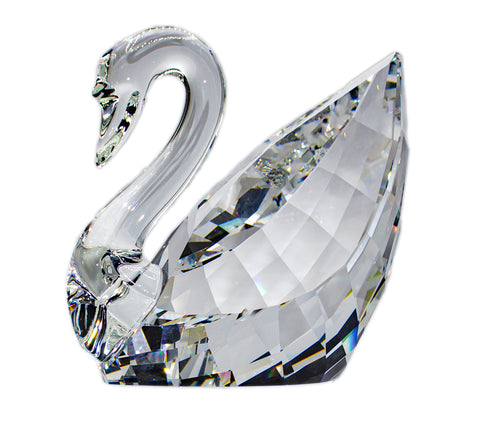 Swarovski Figurine MAXI SWAN Faceted Crystal, XLarge -189254
Swarovski
Figurine
MAXI SWAN
Faceted Crystal
Designer: Anton Hirzinger
Item #189254
Collection: Soulmates
Size: 6 1/2 x 6 1/4 inches
Made in Austria
The swan represents grace, elegance, and natural beauty. Showing the highest level of craftsmanship, this stunning interpretation shines in faceted and smooth clear crystal. It lends instant sophistication to your home or office.
Swarovski began producing their faceted crystal figurines in the 1970's. Since then, they've produced thousands of unique crystal pieces which are highly sought after the world over. This piece, 189254 Maxi Swan, is no exception. First issued in 1995 and a part of the Soulmates collection, it's the perfect way to add a splash of shining beauty to your home. Place it in your curio cabinet, on your bedside table or proudly displayed in your living room. Wherever you put this faceted Swarovski Crystal piece, it's sure to bring smiles and joy to your home.
VERY RARE PEICE TO FIND!
Comes in original packaging.
Brand new, never been displayed. Opened for inspection only.
🚚 Free Delivery & Free Returns
💯 Authentic Product
👍 Satisfaction Guaranteed