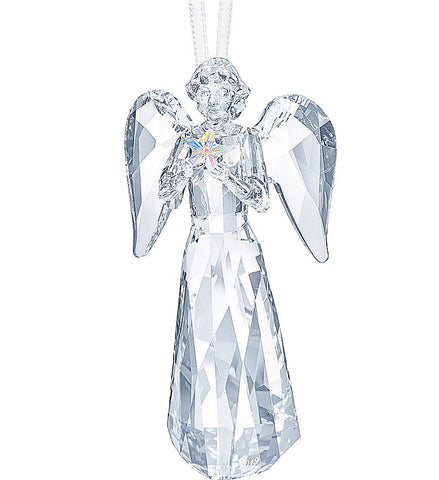 Swarovski Crystal Christmas Ornament ANGEL ORNAMENT 2019 -5457071
Swarovski
Clear Crystal
Christmas Ornament
ANGEL 2019
Article no.: 5457071
Collection: Annual Editions
Color: White
Size: 3 1/8 x 1 1/2 x 1 1/2 inches
Designer: Juan Ignacio Aliena
New in original box
First begun in 2004, Swarovski's tradition of angel ornaments continues in sparkling form this holiday season with the stunning Angel Ornament, Annual Edition 2019. Beautifully crafted with 302 brilliant crystal facets, the angel holds a star coated with our gorgeous Aurora Borealis effect to mimic the Northern Lights. Designed by Juan Ignacio Aliena, it will only be available in 2019 and is elegantly engraved with the year. The ornament, which symbolizes peace and hope, comes on a white satin ribbon to hang on your festive tree or in a window. A lovely gift to celebrate any special moments from this year, such as an anniversary or the birth of a child. Decoration object. Not a toy. Not suitable for children under 15.