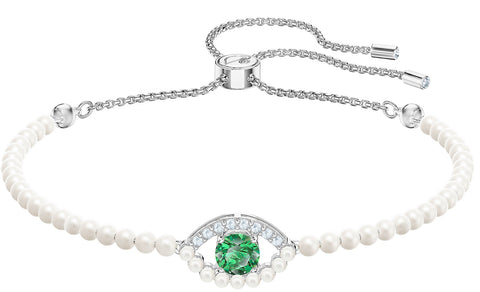 Swarovski LUCKILY PEARL EVIL EYE Bracelet, Green Eye, Rhodium- 5429733
Swarovski
LUCKILY PEARL EVIL EYE Bracelet
5429733
Size: Medium
New in the original box
The evil eye an ancient symbol of protection is refreshed for the next generation in this gorgeous rhodium-plated bracelet. Taking center stage the motif sparkles with a vibrant green crystal pupil clear pave and a row of micro Crystal Pearls. The bracelet itself is decorated with more micro Crystal Pearls for added sophistication. Finished with a sliding closure to ensure the perfect fit this bracelet will combine easily with other cool and romantic designs for statement style.